The Head First team is at it again; this time we're working on a creative design card deck for the software world. Designed to be used as a brainstorming and inspiration tool, the card deck will contain small bits of software design wisdom, insights, idioms, inspiring quotes and perhaps even a chuckle or two. Here's a couple of examples: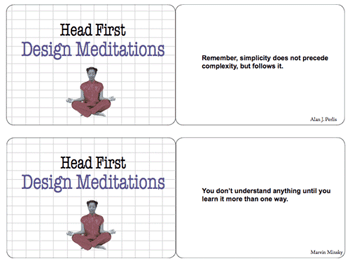 Update!
We've been unable to publish the wonderful submissions as a deck of cards (due to the cost), so for now, we've posted our favorites online at Head First Labs. Check them out! And please keep sending them in; we'll add them to the "virtual deck".
Here are the submission guidelines:
(1) Submissions can be in any area of software or media design.
(2) Send your submissions to [email protected].
(3) Keep your submissions short; remember, this has to fit on a playing card!
(4) You may submit as many ideas as you like.
(5) In your email indicate the source of the quote (or if it is yours, give us permission to use it).
(6) Make sure we have your name and mailing address.
That's it! If you like the idea please help spread the word!
---
Submissions
Check the Design Meditations web page Head First Labs for the latest inspirational quotes send in by our Head First fans!
&mdash The Head First Gang
---